Mount Kidd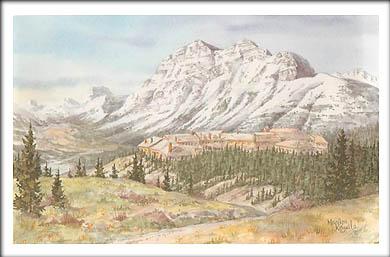 Mt. Kidd, a 9700 feet peak, is named (1902) for one Stuart Kidd, a trading post manager in the town of Morley, who was made (in honorary chief of the Stoney. His Indian name was Tah Osa (Moose killer).
Nearby Mt. Alan was the alpine site for the 1988 Winter Olympics and along with two world class golf courses, summer and winter activities in K-Country are many and varied.
Nestled beneath Mt. Kidd lies Kananaskis Village, (Kananaskis is an Indian name meaning meeting of the waters, which would be the Bow and Kananaskis Rivers). The village is a cluster of three wonderful Rocky Mountain resorts of which The Lodge at Kananaskis is the largest.
by Canmore Artist Marilyn Kinsella, AFCA