Spring Thaw at Lake Louise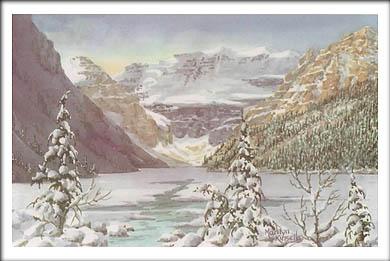 Pictured is the famous view of Lake Louise and the Victoria Glacier, with the approaching spring thaw at the outlet of the lake. An overnight snowfall leaves wet clumps on the trees. The outflow from the area's six glaciers creates Lake Louise. The striking lake colour is produced by fine particles of glacial silt, suspended in the water, reflecting the green rays of the spectrum. This creates truly a magical scene.
This stunning area has awed visitors for over 100 years (the first Lake Louise CP Hotel was opened at the site in 1890) since then it has become the most famous and heavily visited natural feature in these mountains.
by Canmore Artist Marilyn Kinsella, AFCA