Triple Note - Framed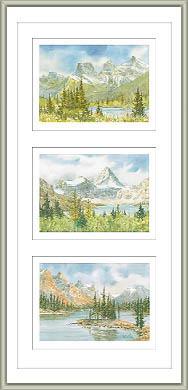 First produced in 1998, this very unique framed piece includes 3 different notecard prints of your choice. The incredible technique of pallet painting has enabled Marilyn to maintain colour continuity throughout the nine possible selections.
Choose any three in any order from: Mount Allan, The Banff Springs Hotel, Mount Assiniboine, Castle Mountain, Maligne Lake, The Three Sisters, Lake Louise, Morain Lake, Mount Rundle.
by Canmore Artist Marilyn Kinsella, AFCA